Nature's Sleep™ is a dietary supplement that contains 0.3 milligrams of melatonin, a patented strength of melatonin, which helps promote and maintain normal, restful sleep.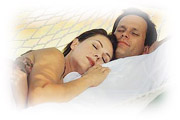 Melatonin is a naturally occurring hormone produced in the human body, by the pineal gland, and secreted into the blood stream. Melatonin normally has two functions for the body:
It serves as the principal "sleep hormone" and helps people to fall asleep and remain asleep; and
It serves as an important "time signal" to help control the body's circadian rhythms or biologic clock.
Research has shown that adults can experience a deficiency in melatonin that may result in sleep problems. Studies conducted at leading medical research institutions have found that the dose of melatonin found in Nature's Sleep taken at bedtime, may supplement the body's natural supply of melatonin and help restore normal, restful sleep.
Nature's Sleep offers major advantages over currently available sleeping aids, including higher-dose melatonin products, which have undesirable side effects, such as amnesia or sleep-induced hangover.